Cocopeat or Coir is a natural and organic product derived from Cocos nucifera Palm. It represents the latest technology in substrates for all crops, especially in hydroponics, although also used with spectacular results for rooting (seedlings and cuttings), cut flowers, ornamental and forest nurseries, hydro seeding and soil improvement in gardens and sports fields.
---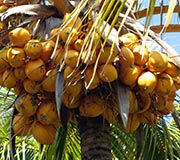 Learn how we manufacture our cocopeat substrates
Cocopeat is an organic medium obtained from the husk of the coconut fruit. From this raw material (Husk), a five phase's process is beginning to finishing in a cocopeat substrate. These phases are: decorticate, washing and composting, drying and sterilization, screening and pressed and finally packaging, all under sanitary control, to be exports to worldwide in containers.